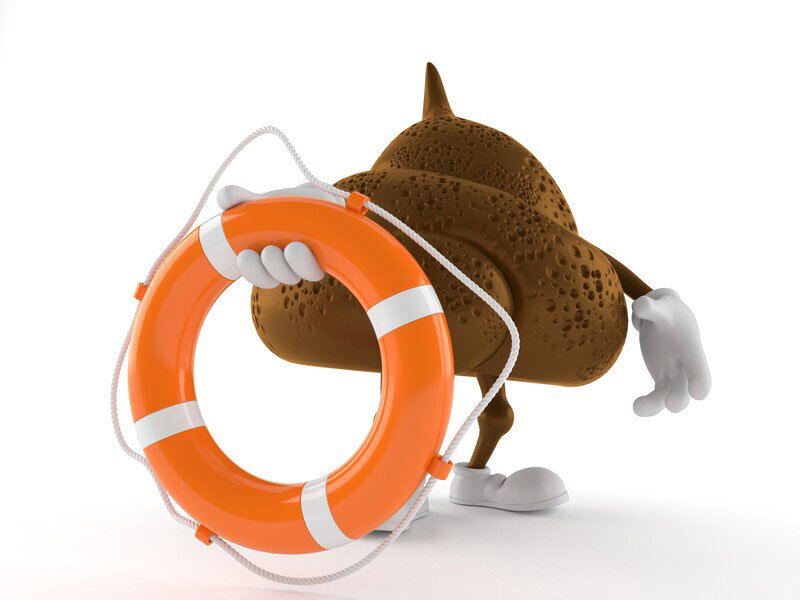 Pooping in a Porta Potty is Safe!
Nature will always call – and sometimes she's ringing off the hook. When number two is number one on your priority list, you need to find a place to go that feels comfortable and safe. You don't want to have to worry about what's hiding on, near, underneath, or above the lid (there is that weird vent).
With all of this in mind, you might be asking yourself: can you poop safely in a Porta-Potty?  We can help you get to the bottom of this. Let's talk about it and get you back to the uneventful and maybe even peaceful emissions you deserve, and we all need during these trying times.
Here at VIP Restrooms, we want to keep you from feeling like you have to hold it any longer. It's time to debunk some of the common myths surrounding the Porta-Potty…to let you let go of your preconceived notions and go already!
Portable Toilets are Sanitary When Serviced Properly
MYTH: Porta-Potties are unsanitary.
TRUTH: We've all been to a huge music festival and tried to use one of the large public restrooms, only to have to confront the uncomfortable realities of the human body. Any bathroom space, porta-potty or otherwise, can become nasty over time.
But Porta-Potties are much more contained, and the gross can't spread. Not only that, but almost all Porta-Potty models will come with a hand sanitizing station and even a separate hand washing area. As long as they're well-maintained, portable restrooms are a perfectly safe way to find sweet release and get back to the action!
Porta Potties are Safer than Traditional Toilets
MYTH: Porta-Potties are not safe because they don't flush.
TRUTH:  Interestingly enough, this can mean Porta-Potties are safer than traditional toilets. Since they don't flush, the contents and particles in the toilet don't spread through the air. Plus, no having to worry about any bacteria-laden handles for flushing. Some portable toilet options might still have a way to flush, so if you're concerned about the spread of airborne bacteria, be sure to put the lid down before you flush!
Most Porta Johns Have Ventilation Built in
MYTH:  Porta-Potties aren't well ventilated.
TRUTH: Most portable restrooms have a ventilation pipe and screens to help keep fresh air flowing through the unit. The proper ventilation doesn't just help combat airborne bacteria from the Porta-Potty contents; it also helps mitigate the smell. On the other hand, public restrooms often run into multiple ventilation issues, so when it comes to airborne safety, the Porta-Potty comes out on top. Note: Ventilation works best if you keep the seat down when not being used.
Can you get Sick from a Porta Potty?
MYTH: Porta-Potties aren't safe due to Viruses
TRUTH: We all need to be more careful in these times, but we can't always stop our bodies from doing what they do. If you're worried about virus safety when using a porta-potty, the CDC puts it best: "Hand washing is a do-it-yourself vaccine."  If you're using proper hand washing techniques after using a Porta-Potty, you're going to mitigate your risk of contracting any illnesses. And because of the increased awareness of good hygiene habits, the portable toilet industry has met our needs needs by providing handwashing stations and hand sanitizing areas. Porta-Potties also see an uptick in service requests and more thorough and frequent cleanings. These extra precautions make your Porta-Potty experience a cleaner and safer one than ever before.
Porta Potties are not Easy to Tip Over
MYTH:  I could get knocked over or blown away while I'm inside a Porta-Potty!
TRUTH:  Well, while that's technically true. Dorothy would not have fared well had she traveled from Kansas via Porta-Potty. There is the chance of an angry rhino uprising, no matter where you live. Gravity has been absolute for so long that it might get tired.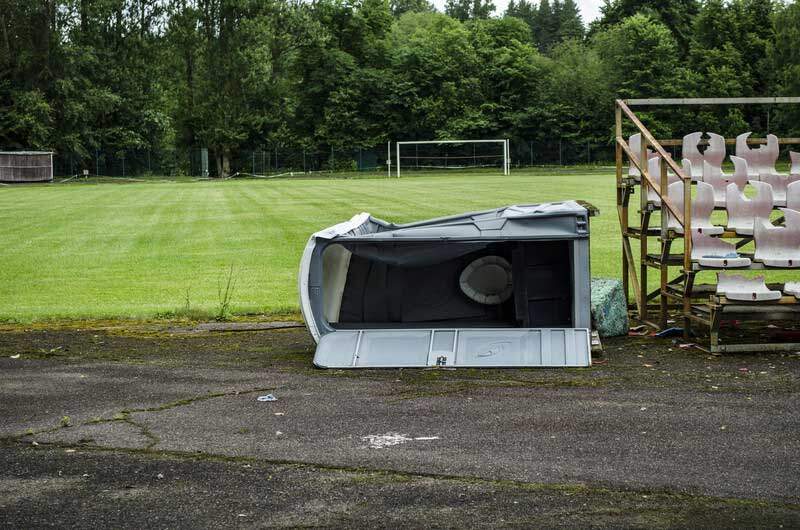 But: the chances of it happening to you are way slimmer than you imagine. Sure, there might be a few deviants out and about if you're at a concert or event, but it's still incredibly uncommon. Severe weather, extreme winds, or tornadoes can be an issue, but if any of that is happening around you, please find a much safer place to hang out and wait for it to blow over.
Everyone goes, and it's just as safe to go in a porta-potty as it is in a regular public restroom. As long as you practice good hygiene, you should have no issue feeling that extra layer of relief using one of our top-notch Porta-Potties. Come check out our options at VIP Restrooms and rent our restrooms for your next event. Let's do our business together!
Calculate the number of portable toilets you need for your next event or job-site.